The Life of the Solo Indie Developer
I've always wanted to share what life is like as a solo indie developer, competing against shops and apps that have budgets in the hundreds of thousands or millions of dollars and teams of developers, artists, marketers and project managers. How is it even possible to compete as a solo indie developer?
I think this Magic the Gathering Card sums it up for me: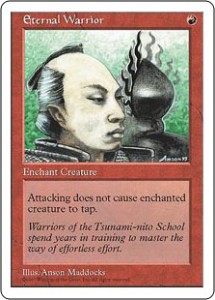 The way I compete is to work tirelessly and with a focused determination. I cut out as much waste and overhead as possible and only work on those features that matter most to my users. I provide top notch customer support and responds to every support and feature request as soon as possible. I do my best to innovate and to learn from my many missteps. I think of the long haul rather than the quick gain.
While others seek personal leisure time or relaxation, I work harder to improve myself and my software. Lone hours into the wee hours of the morning sometimes yield the most interesting results (like my frame tool in You Doodle). My family is very supportive and I strive to maintain a decent balance with them and my work. Oh and I do all this while holding down a day job which I hope to quite soon to go full time on my own stuff. *EDIT* My last day at my day job was 2014-10-06 🙂
Statistically, success is not achieved overnight or even in a few years. It takes many years – decades, and tireless effort. Effort I am willing to give.
Good luck to all you indie developers out there. Keep at it and never give up, never surrender.