Mobile Application Growth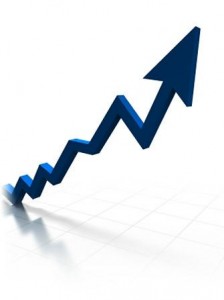 Jeff and I have recently gone full steam ahead in creating mobile applications and games. Before we created a game for the PC and XBOX called Math Asteroids. But we've come to realize that mobile is where the trend for device usage is headed and we need to prepare ourselves for the change in mobile application growth.
One way we are preparing is learning Corona SDK to develop for iOS and Android mobile devices. This isn't to say that the PC is going to go away anytime soon. But over time, we'll see mobile taking up a larger chunk of space due to mobile application growth. Here's why.
Mobile Devices Are Easy
Would you rather haul a laptop computer in a bag around with you, or simply have a small little device called a mobile phone which you can put in your pocket? What is easier to access and use and still does most of what you want? The trend of mobile application growth seems to suggest the mobile phone or mobile device.
Here's a chart showing the growth of mobile devices in 2011 compared to 2010:
Worldwide Smartphone Sales to End Users by Operating System in 4Q11 (Thousands of Units)
Operating System

4Q11

 Units

4Q11 Market Share (%)

4Q10

 Units

4Q10 Market Share (%)

Android

75,906.1

50.9

30,801.2

30.5

iOS

35,456.0

23.8

16,011.1

15.8

Symbian

17,458.4

11.7

32,642.1

32.3

Research In Motion

13,184.5

8.8

14,762.0

14.6

Bada

3,111.3

2.1

2,026.8

2.0

Microsoft

2,759.0

1.9

3,419.3

3.4

Others

1,166.5

0.8

1,487.9

1.5

Total

149,041.8

100.0

101,150.3

100.0
Overall, there is a large increase in 2011 mobile device sales (on the left) -vs- 2010 mobile device sales (on the right). Except for poor Research In Motion and Microsoft 🙂
Let's face it. It's much easier to hold a mobile phone in my hand than a laptop. If I use the simple reason that there is less pain to hold a mobile phone than a laptop, I'd know mobile wins. There's also much less hassle in setting the phone up and running or diagnosing problems. With a PC or MAC, there's so many parts to manage and work with that it can be frustrating. A mobile phone is one thing – one device and its ease of use is one reason there is mobile application growth.
Mobile Devices Can Do What We Want With Less
What you see here is a 1982 Osborne Executive portable computer next to a 2007 smartphone. Let's compare the two in power and ability.
1982 Osborne Executive portable computer
Cost: $2,495 (in 1982).
Size: 52 x 23 x 33 cm.
Weight: 28 lbs.
CPU: Z80 4.0 MHz.
Memory: 124 KB.
2007 smartphone (Apple iPhone)
Cost: $250 (on average)
Size: 116 x 61 x 11.6 mm.
Weight: 135 grams.
CPU: 412 MHz.
Memory: 4 GB (up to 16 GB).
Differences between 1982 Osborne and 2007 smartphone
Cost: smartphone is 10 times cheaper (adjusted for inflation).
Size: smartphone is nearly 500 times smaller (in volume).
Weight: smartphone weighs 100 times less.
CPU: smartphone CPU is about 100 times faster in clock speed.
Memory: smartphone has over 100 times the memory capacity.
What Are People Doing?
Smart phone's are a favorite device across all generations, particularly the younger generation. The ability to easily call and text someone makes having a smartphone readily available a must. Add to that smartphone the ability to watch movies, run applications, and take video and pictures and you have a recipe for mobile application growth.
Most people are browsing something on their mobile device, playing around with some application or game, or taking pictures and video. As more and more applications are developed for the smartphone and more and more people use the smartphone, mobile application growth will just continue to explode due to the tremendous market opportunity and usage.
To test this theory, just find a young person and see if they have a mobile phone. What are they doing with it? Go to a company party or work meeting and see how many people have a mobile phone. They are literally everywhere.
Conclusion
Mobile application growth is going to continue to increase. With the increasing power and capability of smartphone's and mobile devices, along with the convenience and ease of use, mobile applications will be desired to assist and entertain others. The question Jeff and I ask ourselves and maybe you should ask yourself is, "Are you ready to take advantage of this opportunity?"