iAd vs. Facebook Audience Network
*FINAL UPDATE* iAd is dead. Look elsewhere for ECPMs…
* You may want to read my horror story about Facebook Audience Network that happened later *
Recently, I decided to put Facebook Audience Network ads in my app, You Doodle for iOS. Not knowing how well they would perform, I added some server side parameters to configure the order of my banner ads and popup ads. I know many ad frameworks offer mediation, but I've had bad experiences with it, so I rolled my own. I've used AdMob in the past, but it is my last choice now because the payout is so poor.
At any rate, my stats from Facebook Audience network are so far very favorable compared to iAd. Facebook Audience Network has a much better fill rate than iAd, and seems to perform better overall. My guess is that because Facebook knows you better than you know yourself (they are masters at harvesting user data), they can serve up highly relevant ads that are not only clicked on, but acted on. The cost per click of even the Facebook banner ads is great, and the popup ads pay amazingly well per click.
What is most interesting to me is how well the Facebook banner ads are performing. Everything I have read says banner ads stink and they should never be used. My Facebook banner ads are paying out more than my Facebook popup ads (albeit with a much higher display rate). Banner ads are much less bothersome to the user so this is fantastic!
Here are two graphs, first my Facebook Audience Network banner ad revenue, followed by my Facebook Audience Network popup (interstitial) ad revenue for the last four days. Four days ago, they became the top choice, and iAd was moved down to second.
Sunday is only halfway done, so just multiply those numbers by two.
Banner:


Popup/Interstitial:


Has my iAd revenue dropped significantly after being moved to second fiddle? Amazingly, no! Here's a graph of the same days.
*The last bar on the right still has 6 hours to go!*
iAd hasn't suffered at all…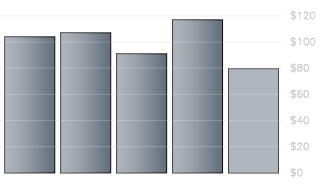 If you haven't yet put Facebook Audience Network ads in your mobile app, do so now. They pay comparable to iAd, and have a way higher fill rate.