Cryptocurrency is Going Bananas
I posted in September about how cryptocurrency was having a party. I think it was just the pre-game show. Since that post, cryptocurrency market cap has increased by over 4x. Last I checked, market cap was around 430 billion USD. It's exciting to think that this is just the tip of the iceberg. It fascinates me that Earth's financial and computer processing systems are being disrupted and mostly replaced by cryptocurrency and the blockchain. The little Bitcoin cliff I posted in September is barely noticeable on this new graph: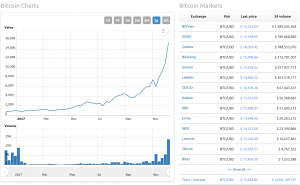 Here's the old September 2017 graph: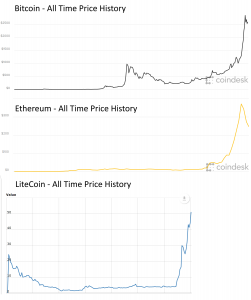 There are bound to be numerous corrections, crashes and crazy price movement. The most exciting thing is the pace of innovation – it is moving so fast it is impossible to keep up with all the developments with cryptocurrency and blockchain.
I'm excited for what the future holds!