My Horrifying Experience with Google AdMob
AdMob for App Installs? No thank you…
I recently put AdMob ads into my free iOS app, You Doodle Plus. While the click rates are good the ECPM is absolutely terrible. Here's a visual to give you an idea (click through to see full size).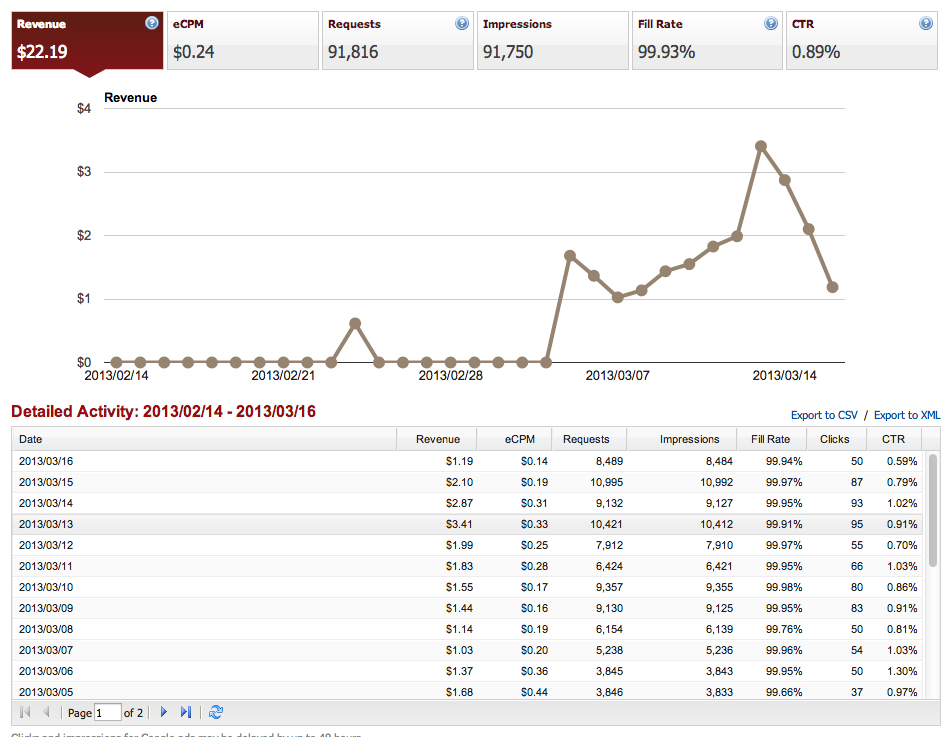 AdMob is clearly not a viable way to support an iOS app. Now let's compare the AdMob earnings to my iAd earnings: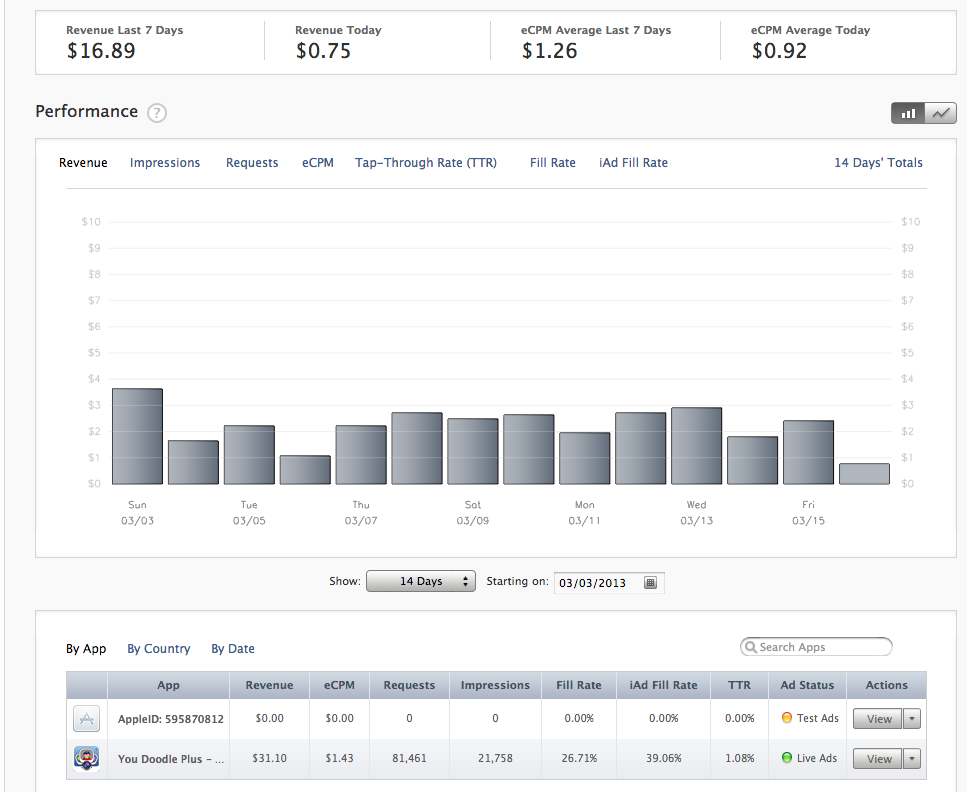 The eCPM in iAd is decent, about 1-2 USD, however the fill rate is horrible and the final earnings are close to what I'm making with AdMob (I added AdMob a week after I added iAd).
This begs the question, how in the world are people supporting free mobile apps with just advertising? The apps would have to go viral and get tens of thousands of downloads a day just to justify paying a developer or two and maybe a designer. Maybe that's why a lot of advertising apps show popups every time you do anything, but what a bad user experience.
While I'm not very happy with the results of placing ads in my app, I thought "with such low eCPM, I should be able to make my own campaign and drive thousands of users to my apps!". So I decided to run a campaign on AdMob to see if this could work. Here are the results of my campaign:

Here's the sad summary: I paid 15$ EACH for two installs of my FREE app, You Doodle. I was completely stunned when looking at these results. I know I am not an expert marketer and I am sure my screenshots could be improved and all that but TWO installs? For a FREE app? AdMob simply does not work for generating installs and I am going to have to find other ways to get downloads of my apps.
You can't even transfer extra unspent campaign funds without emailing Google and waiting 5-10 business days for the funds to transfer. Looks like it's by design that money flows to Google as easy as pie, but money going AWAY from Google is tied up in some ridiculous process. I emailed Google asking that not only should those remaining funds be transferred but that I receive a full refund for all spent campaign funds because their service simply does not work. I'll post here with the result of that email once I get a response.
In short, stay away, stay FAR away from campaigns on Google AdMob and be prepared to live off scraps if you want to make your living from showing AdMob ads.
*UPDATE* 2013-03-26 – I haven't heard anything after 10 days, not looking good…
*UPDATE* 2013-04-07 – Still nothing and it's been three weeks, I am floored. Google is too big to offer customer service it would appear. I turned my campaigns back on with a bid of 1 cent and will let them drain the remaining 35$ in the account. Yuck.